NEWS LIST
ACNH Festivale Event Guide & Update 2021 - Festivale Dates, Items, Rewards and More in Animal Crossing
ShareThis
Google +
Facebook
Tweet
LinkedIn
Reddit
The next update coming to Animal Crossing New Horizons is ACNH 1.7, which is set in late January. One of the confirmed events included in the ACNH January update is Festivale, it is teased by the appearance of Pave in the trailer of the winter update. What can we expect in ACNH Festivale 2021? In the ACNH Festivale event guide & update, we'll bring the dates, furniture and clothing items, feathers, reactions and new features for Festivale in New Horizons.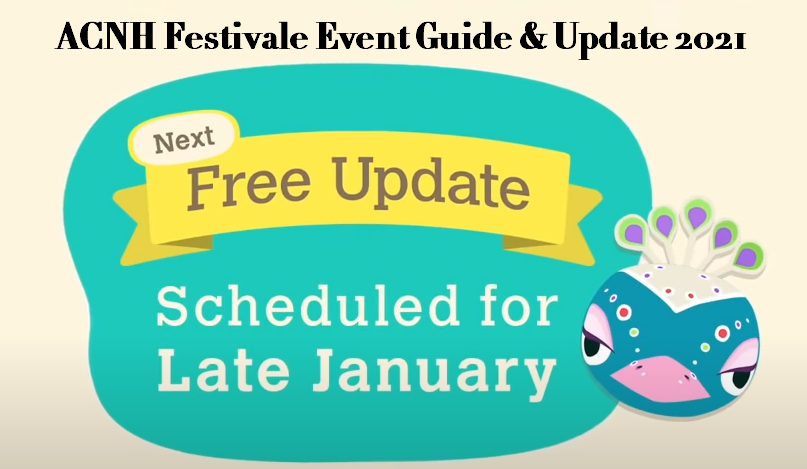 Animal Crossing New Horizons Festivale Dates
Festivale is a Spring event first introduced in Animal Crossing City Folk and also available in New Leaf and New Horizons. It occurs in February or March and the actual date is varying in different years. In previous games, Animal Crossing Festivale often took place on the day before Mardi Gras in the real world, this year, ACNH Festivale update will come on February 15, 2021. Check out all the updated details about Festivale in the following content.
What we need to note is that the Festivale is probably time-locked in New Horizons, which acts similarly to Turkey Day and Toy Day, this means you can't try to access the event through time travel, you can only get started until the real-world time arrives.
What Can You Do on Animal Crossing New Horizons Festivale Day
Pave is a peacock of green, yellow, purple, and turquoise coloration. He is the character who hosts Festivale, during the event, Pave shows off his colorful and bright feathers and dances through the entire celebration while rewarding players with limited time Animal Crossing items in exchange for feathers found around the town.
Festivale confetti - During the Festivale celebrations in previous AC games, the entire town is filled with colorful confetti that falls from the sky, there is a good chance this will return to New Horizons.

Festivale feathers - One of the mechanics of Festivale event in New Leaf is the colorful feathers that will be falling from the sky amongst the confetti, there are eight different colored feathers the players can get: red, pink, blue, green, yellow, white, purple, and rainbow. If you collect the correct number of the specific color of feathers requested by Pave, or catch rainbow feathers, Pave will reward you with a piece of furniture from the Pave series and a dance.
How to get feathers? - Feathers will be floating down from the sky on your island. Players have to catch feathers with a net, so you can stock up on some nets for catching more. Playing mini-games will make you win or lose feathers. Trading is a good idea if want to get right feathers.
Festivale mini games - Mini games were applied in both City Folk and New Leaf, rather than just hanging around the plaza or just referencing the holiday when chatting to them on your daily rounds, villagers often want to play one of the several mini-games with players. The past mini-games including Imaginary Soccer, Rock, Paper, Scissors, Coin Toss, Charades, Made Ya Look, and more. Playing mini-games makes the event feel more fun and immersive.
Update:
Festivale Reactions - A group of new reactions is released in the game, including Feelin' It, Let's Go, Viva, and Confetti. The Viva Festival Reaction Set can be purchased with Animal Crossing bells at Nook's Cranny.
Confirmed ACNH Festivale Items - Animal Crossing New Horizons Festivale Furniture & Clothing
A new furniture set will replace the Pave series in past Animal Crossing games, bright and colorful carnival-themed ACNH clothing are also added for the celebration, you can unlock these items by taking part in the event or buying with ACNH bells. The list of ACNH Festivale furniture items and clothing items added through 2021 January Update (1.7.0 version) are updated below.
ACNH Festivale Furniture
Festivale Float
Festivale Stall (rainbow, purple, red, green, blue)
Festivale Stage (rainbow, purple, red, green, blue)
Festivale Parasol (rainbow, purple, red, green, blue)
Festivale Lamp (rainbow, purple, red, green, blue)
Festivale Garland (rainbow, purple, red, green, blue)
Festivale Flag (rainbow, purple, red, green, blue)
Festivale Drum (rainbow, purple, red, green, blue)
Festivale Confetti machine (rainbow, purple, red, green, blue)
Festivale Balloon lamp (rainbow, purple, red, green, blue)
ACNH Festivale Costumes & Accessory
Festivale Accessory (red, purple, green, blue)
Festivale Tank dress (red, purple, green, blue)
Festivale Costume (red, purple, green, blue)
How to Get Festivale Items in Animal Crossing New Horizons?
1. From February 1 to February 15, 2021, there are 10 different Festivale furniture items for sale at Nook's Cranny, you can buy them with your bells, the whole set sold on your island will come in the same color variation. But you can customize other variations at a DIY workbench using a Rainbow Feather.
2. All the colored furniture in the above can be crafted in five different colors: rainbow, green, purple, red and blue. This means only the Festivale Float can't. The Festivale Float needs to be obtained from trading three Rainbow Feathers to Pave after collecting all 9 other Festivale furniture items.
3. Festivale costumes or clothes are also for sale at the Able Sisters from February 1 to February 15.
4. On the day of Festivale (February 15), trading feathers with Pave to get some of Festivale furniture.
NEWS KEY
ESO Guides And Gold

With ESO gold fast you can find the quickest Elder scrolls online gold merchants to buy from instantly and safely. And you can get a number of gold at cheap price and enjoy our timely service. Moreover, the latest eso news and professional eso guides are supplied for you whatever classes you play.
Buy ESO Gold

GAME:
SERVER :
PRODUCT :
CURRENT :
Buy ESO Hot Items