NEWS LIST
ACNH Halloween Design & Decoration Ideas for Animal Crossing New Horizons Island
ShareThis
Google +
Facebook
Tweet
LinkedIn
Reddit
We are getting closer to the ACNH fall update and Halloween event, do you want to transform your island with ideas and inspiration of Halloween and spooky related items? There are some players that have been created some cool ACNH Halloween designs, follow us to check out these ideas for interior/exterior decoration and design on your island in Animal Crossing New Horizons.
Related Read: ACNH Halloween Event Guide
ACNH Halloween Design Ideas & Decoration Tips for Your ACNH Halloween Island
1. Halloween Costume Area
Everyone has limited inventory space to include a certain amount of clothes in the game, even if you upgraded the storage. With the coming of Halloween, players will design more Halloween themed clothes, outfits, and dresses, there are also caps, masks, shoes, eyeglasses and more items. The user @tangy_luna has created an ACNH costume area with a variety of arranged neatly items that can be worn on Halloween and other days. It's a fun and cool design for your island.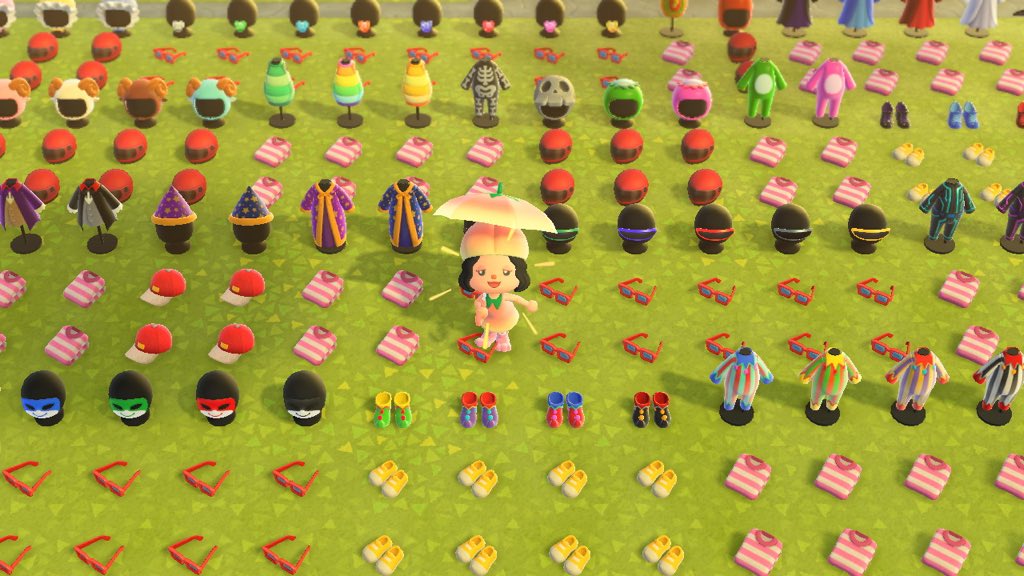 2. Pumpkin Carving Table
It's September now, things in nature and the decoration in Animal Crossing are slowly turning into autumn colors. Even though the Jack rewards and Halloween items are not provided now, you can also create some designs with pumpkin theme items. Take a look at @stelllacrossing's pumpkin carving table, use the Log Round Table and Bench, put your custom pumpkin design on it, decorate with some other deep colored items, such as Orange Hyacinths, form a unique landscape in some open space on the island.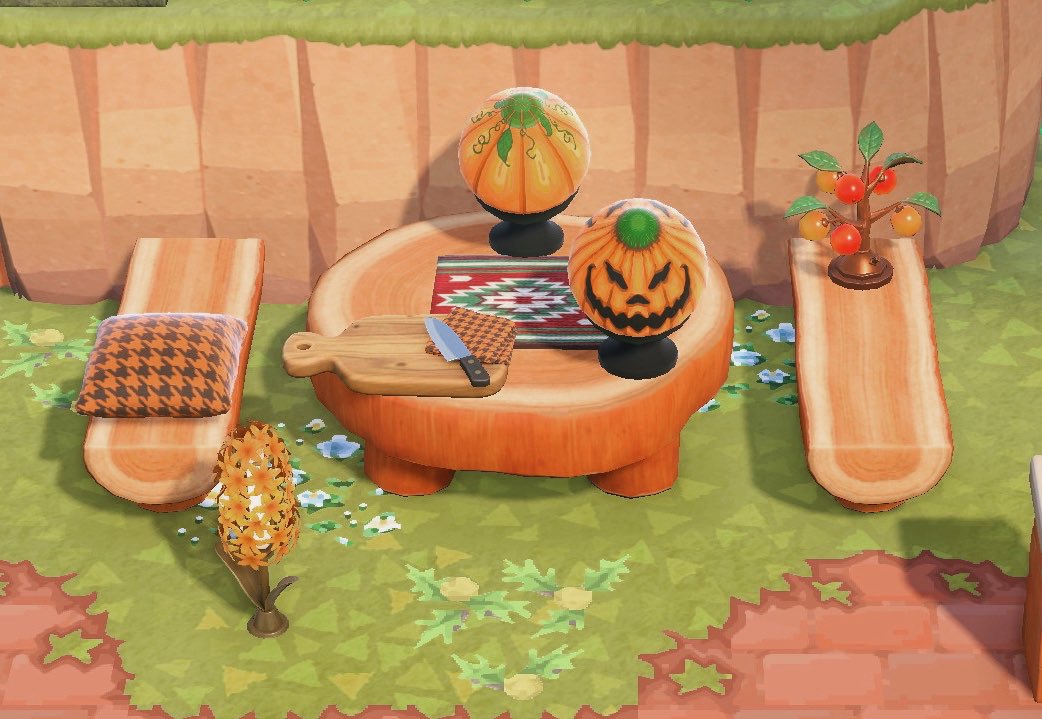 3. Cave Against Cliff
The cave is a mysterious place that fits the theme of Halloween. Also, with the arrival of autumn, you can design a cool space on your island. It's easy to make a cave if you have two Animal Crossing New Horizons items, the first one is Stone Arch, you can get the item at the Nook Stop or use stones of a certain amount to craft it. Another required ACNH item is the black Simple Panel, which is used to be put at the back of the stone arch. The panel and arch are located against the side of the cliffs. Actually, they can create a perfect illusion that there is a cave on your island if you watch it standing in front of the arch, this idea is proposed by a great Youtuber NintenTalk, more popular and best ACNH Youtube channels are collected at our news, you can take a look to find more useful contents about the game. The idea of the following picture by @potatotoffee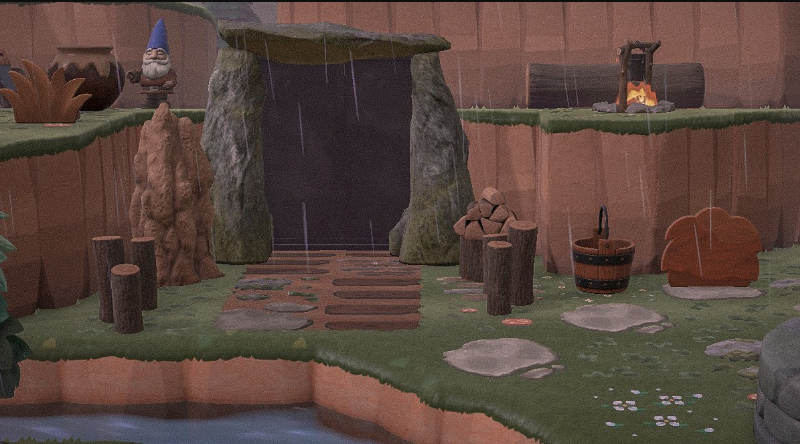 4. Orchard Fruit Bat
Put the fruit bat between two fruit trees, it is a bat hanging upside down and the illusion is that it's hanging from a fruit tree. You can create a fruit bat using the Custom Design app or search for an existed fruit bat design pattern with the design codes, but the pattern doesn't work on a cedar tree or anything like that. Select the pattern, and click "A" on your Switch, choose the "Display Here" option, then it will automatically show up on the mannequin.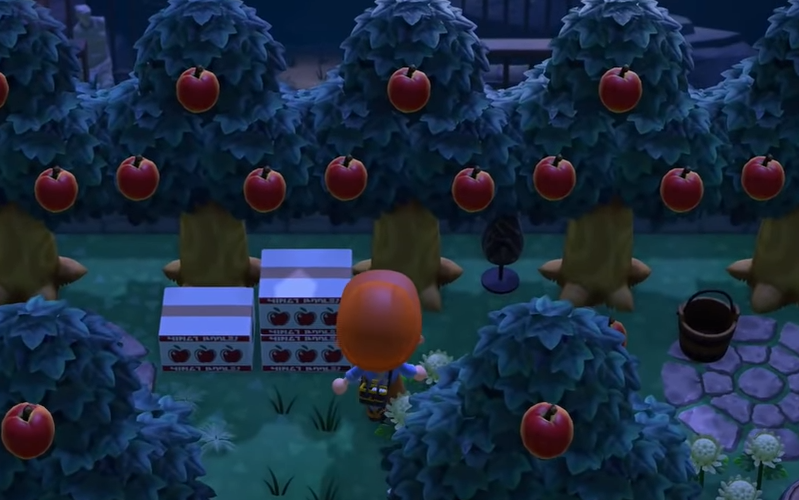 5. Halloween Lantern
The official news of Halloween is unavailable in the game now, we can't access the spooky and creepy items until the presence of Jack. However, the jack-o'-lantern is undoubtedly the main element of Halloween designs and items, such as the spooky furniture set. If you want to create a Halloween lantern now, you can buy a Paper Lantern in Nook's Cranny or AKRPG.COM and create your own pumpkin face instead of the original image. Put these customized paper lanterns outside the villager houses, make a Halloween atmosphere for your island in advance.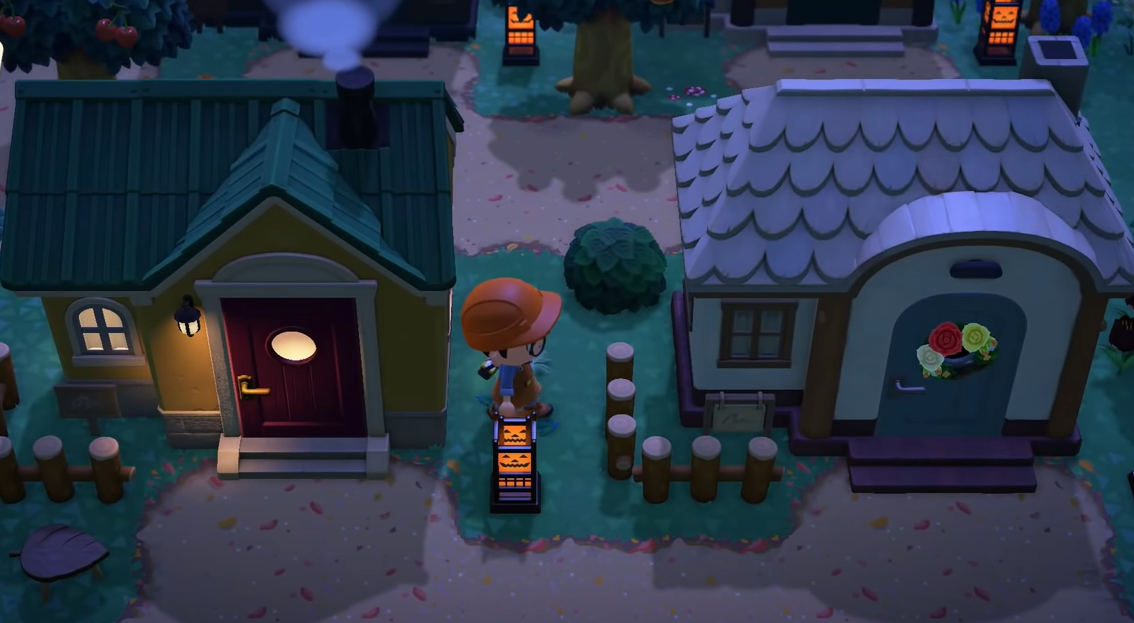 Check more Animal Crossing designs for your island and home at akrpg.com, no matter what style you like.
NEWS KEY
ESO Guides And Gold

With ESO gold fast you can find the quickest Elder scrolls online gold merchants to buy from instantly and safely. And you can get a number of gold at cheap price and enjoy our timely service. Moreover, the latest eso news and professional eso guides are supplied for you whatever classes you play.
Buy ESO Gold

GAME:
SERVER :
PRODUCT :
CURRENT :
Buy ESO Hot Items